Sir Robert Howard (c1595-1653), fifth son of the 1st Earl of Suffolk, was born at Walden Abbey, rebuilt during his childhood by his father into one of the great stately homes of England, Audley End.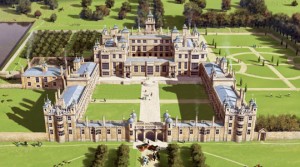 An MP and a Royalist who commanded a regiment of dragoons in the English Civil War, Howard was also the great love of Frances Coke, Viscountess Purbeck and father of her son. He recently came into our blog studio and recorded the following interview:
(SPOILER ALERT: if you haven't read or finished Nights of the Road, you may prefer to read after you have!)
Sir Robert, thank you for making time to speak to us. We heard so little of the story directly from your point of view, and yet you were a major character in Nights of the Road. Some readers have been asking what life was like for you after Frances?
RH: After Frances? Hmm. I didn't think much about anything for a long time, except just doing whatever had to be done. I collected my men and headed west to the Border Country, fighting rearguard actions wherever we could to support the King. Things were not going well for us Royalists by then. Early in 1646, I received responsibility to defend Bridgnorth Castle.
We held out as long as possible but the siege ended badly. The enemy tunneled into the hill successfully and I knew that they were on the point of blowing up the church, which we were using as an armory, I had to decide on the spot: surrender or risk widespread slaughter. Not a happy choice.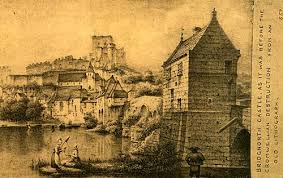 Afterwards, I abided by the terms of my honorable surrender, retired to my lands in Shropshire and lived quietly. I took no further part in the war effort.
It was then that my loss caught up with me. A dark time. Not pleasant to look back on, even now.
Did you ever consider naming your son formally as your heir?
RH: That was a painful issue. Frances and I agonized over it, but in truth we had no choice. I would have sacrificed everything to make Frances my wife. But Purbeck would never divorce her. Since she and I could never marry, we all had to accept Robin remaining as John Villiers' legal heir. That way, he inherited the title and properties due to him through Frances, including those released after Purbeck's lifetime use. I did what I could for Robin, by securing him a long lease on part of my estate in Radnorshire. Siluria served him and his family well later in their lives.
Was marrying a difficult decision for you?
RH: After Bridgnorth, I had to choose between exile and trying to clear my estates in Shropshire from the weight of sequestration. I could not imagine a life overseas again without Frances. But I don't know if your readers realize just how difficult those years were for us vanquished Royalists? We were labeled 'delinquents'. For those who chose to remain in England after the fighting ended, every day was a struggle.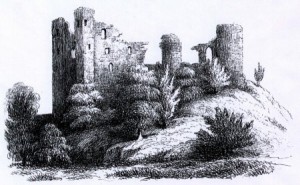 After three years without Frances, several members of my family were still pushing me to marry, and it seemed a natural step to take. I was seeing little of Robin and was lonely. I had a need for companionship and wanted an heir. Robin could not inherit the Honour of Clun. He understood that, although it hurt his pride and saddened me.
Did you make a happy choice of wife?
RH: I have no complaints. Katherine was a worthy woman, much younger than me. She gave me three children. They brought new life to our home and ensured the continuance of my line. Katherine was well-born, dutiful and managed our household well. I kept busy until near my life's end, and was not unhappy.
What were your relations with Robin like during those last years?
RH: My marriage did not please him and I found it painful that he went against the King. But I recognized that he had fought for the Royalists to please his mother, rather than from powerful personal conviction. I had a brother who fought for Parliament, so had already learned to tolerate political differences with those I loved.
Such difficulties strained but did not destroy our relationship. I understood Robin's situation. He was a young man. Given how the Civil War ended, as both a Royalist and Catholic, he would have had no prospects in England without changing sides and renouncing his religion. Who knows? I might have done the same thing at his age. Although I don't think so. Can't imagine ever taking up a position against the King, myself…
Did you like the family he married into?
RH: We already knew them well. Henry Danvers, Earl of Danby, died before Frances, but you may remember he was her cousin and had been a bulwark for her against Buckingham, during her struggles for her jointure and other matters.
Henry's younger brother John was cut from a different cloth. Henry never forgave him for siding with Parliament. He did hold a commission in their army briefly, but his heart was never in soldiering. Active in on the diplomatic and political front. A finger in a good many mercantile pies. Could always find a word for the occasion. Genial, yet I never knew him intimately.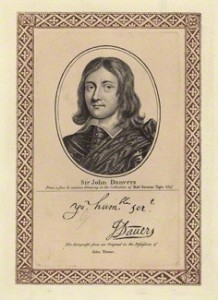 Can you say more?
RH: I'm a simple fellow. John Danvers was clever. Married for years to Magdalen Herbert, so mixed with poets and such. That garden he created in Chelsea: it was exquisite, and everyone acknowledged he had fine taste. Got a lot of his ideas from the continent. But he was always extravagant. Got badly in debt. He did not have to worry about compounding for an estate like me, but he shot himself in the foot over the inheritance. Henry remained a staunch Royalist to his dying day, and cut his brother out of the succession for deserting His Majesty.
Some say that was what tipped John Danvers even further into Parliament's camp. Personally, I don't think so. He had crossed swords with the King long before the war, on matters like Ship Money. But I still found it hard to understand how John could ever have put his signature to His Majesty's death warrant. It was shocking and deeply distressing.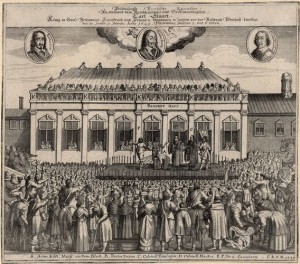 But by then Robin had married his daughter and I judged it too late to make a bother. It made for a further distance between Robin and myself, though, especially since Danvers found him projects through the Council, which sent the lad traveling overseas a lot. When we did see each other, which was rarely, Robin wouldn't discuss with me whatever missions he was bound upon.
And Robin's wife? Did you like Elizabeth?
RH: Like her? I haven't thought about it…
John Danvers became Robin's mentor, so he had influence with my son. He encouraged the marriage. His daughter? Hmm, what can I say about Elizabeth? She and I were never close, but it did seem to me to be a love match on both sides, as well as a connection that assured Robin's advancement in the short term. She was a strong-willed young thing, Elizabeth. Confident. Well educated for a woman. Kept Robin on his toes and gave him some beautiful children.
Would she and Frances have enjoyed each other's company?
RH: I've never asked myself the question. Let me think about that for a moment…
Look, Frances adored Robin. She and the boy had known so many privations and led such a strange life together when he was young. She was the only constant in his childhood. That made them closer than many mothers and sons. I believe Frances must have found it hard to let Robin go to any wife, even a paragon of virtue, which Elizabeth certainly wasn't.
If Frances had shown herself possessive, I doubt that kind of young woman would have tolerated sharing her husband with a mother-in-law. But Frances was a generous and noble soul. She would have rejoiced that Robin married someone who loved him. Frances was never an interfering sort. She would surely have done all in her power to welcome the girl…
Then again, Elizabeth expected the good things in life and that might have disturbed Frances's notions of what would best serve her son. The Danvers girl had known a luxurious and privileged upbringing in Chelsea. She was the elder daughter, and her mother died when she was very young. Her father only remarried just before Robin and Elizabeth. So the chit grew up indulged. Ruling the roost. Demanding whatever she wanted and creating a storm if she didn't get it.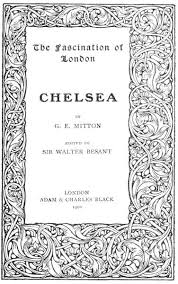 Such goings-on would not have pleased Frances. But she had been used to dealing all her life with Lady Hatton. Never knew a more willful woman than Eliza…
Looking forward, Frances would surely have respected how young Elizabeth managed to hold things together for the family and all those children, when life became so difficult for Robin…
Am I rambling?
If you could have changed anything about your life after Frances, what would it have been?
RH: If I had known how things would turn out long term, I might have tried harder to encourage Robin to stay with the King, or at least to persuade him to keep the name of Villiers and not to throw his title away. But he never broached that subject with me. And, if he had remained a Royalist, he would have been obliged to go into exile like the other Villiers boys, his 'cousins'. Life was bleak for all those young monarchists, scratching around Europe trying to survive until the Restoration, which many lost hope would ever come.
In any event, Robin's heart was never in the King's cause, especially not after that public shaming in Shropshire. A bad business. You destroy a man's loyalty that way. I knew Prince Rupert well. He was a fine battle commander, as brave as they come, but impetuous. Didn't always make the wisest decisions on or off the battlefield.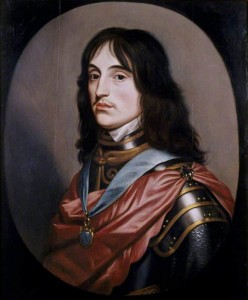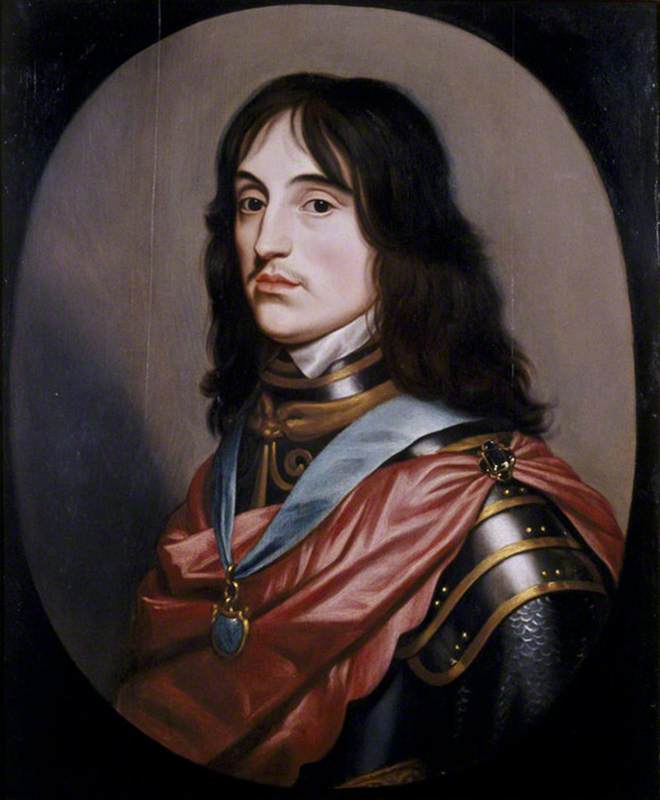 Robin's grandfather may have played a part in forming his political persuasions, during those childhood years at Stoke. Coke was always strong and articulate for the Common Law. However it came about, the lad developed a conviction that the King had overplayed his authority and was bad for the country.
Any other changes you would have made in your own life if you could?
RH: I would have anticipated Katherine's reactions and made her swear on a Bible to help all my sons love each other instead of creating a courtroom battle. I wish I could have prevented that lawsuit. Of course, Henry's new stepfather was the one who set my son and heir against Robin. So unnecessary…
What else would I have changed? Perhaps nothing at all. I'm not the type to lead crusades. More of a follower, until someone like Laud really gets my back up. When you have so many flamboyant older brothers and sisters, it's usually easier just to go with the flow…
Frances was the one who brought meaning and direction to my world. My time in the sun was during those years when she was with me. We were so often separated but striving to be together was always what drove me on.
Those eight years after Frances had gone? I can sum it all up by saying that I survived and did my duty as best I could through difficult times. I'm glad I did not have to stay around any longer, to watch that dreadful fellow Cromwell set himself up as His Highness.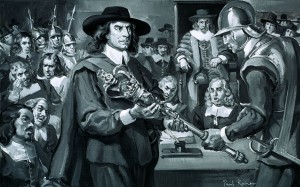 He'd have made himself King, you know, if he'd thought the country would stomach it. What a farce. No wonder so many Parliamentarians were left wondering why they had ever taken arms against us.
Thank you so much for your time, Sir Robert. We hope you are reunited with your love and resting in peace!