Given the role of rock music in Nights of the Road, it seems no accident that Kenney Jones, drummer in three of the best-known bands of rock history should have stayed and partied with us during the week of the novel's publication and e-book launch.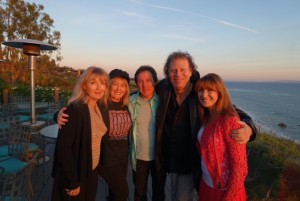 Kenney Jones with friends in Malibu
While he was here, Kenney Jones agreed to share some stories and give us a sneak preview of upcoming projects. But first, let's wind the clock back fifty years!
Born to Rock
Sam and Violet Jones were settling down to watch TV in their terraced house in Havering Street when they heard a knock at the door. In the early 60's, nobody in London's East End came visiting after five o'clock tea, much less a stranger carrying a set of drums.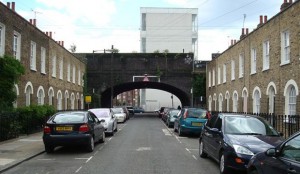 Havering Street today
The Jones's shock was complete to discover that 13-year-old Kenney – then hiding upstairs – had just done a deal involving his parents with a man from J.60s Music in Manor Park!
At 64 pounds, 4 shillings and tuppence (worth $2,000+ in today's money), those second-hand drums cost more than three times the weekly wage of a lorry driver who delivered meat from the docks. Sam was understandably furious, but also curious about what had come over his usually shy, quiet son. Then he and Violet watched the biggest grin of his life fill their only child's face, as Kenney sat in their front room, eyes shut and playing a white Olympic drum set with brushes that he had never held before – his previous drumming experience having been limited to two pieces of firewood and an emptied-out biscuit tin.
In that moment, Violet knew her boy Kenney had found his life's calling. She signed the HP agreement and drums took over their home. Sam soon knew Vi had made the right call: their son was focused for the first time in his life. Messing about in the streets with friends was over. Kenney got up an hour early to rehearse before school; he came running home in the lunch hour to practice, and played for three hours in the evening.
Dedication paid off: the band he formed with other likely lads, including Ronnie Lane and Steve Marriott, had their first hit when Kenney was still only 15 years old.
Keeping a Small Head in the Small Faces
The Small Faces' meteoric rise meant that Havering Street residents received a reprieve from the noise that had been assaulting their ears morning, noon and night for a couple of years.
But it might easily also have sent Vi and Sam's son off on the same tragic trajectory as too many teenage stars who have lost their way. How did Kenney Jones stay so grounded, and go on to enjoy mega-stardom with two more of the best known bands in rock history – The Faces and the Who – before branching out into entrepreneurial success as player-owner of a world famous Polo Club?
Three particular things were going for Kenney: drugs did not agree with him; he came home every week to the house he was born in and the mum and dad whom he adored, and his old East End friends kept him down to earth. He recalls going for a drink one day with his mates, during his early whirlwind fame with the Small Faces, and sensing something was wrong. He asked why he was being cold-shouldered and got told, "Kenney, you always talk about yourself and never ask how anybody else is. You've got big-headed, mate."
Kenney immediately told himself "I'm never going to think I'm better than anyone else." He learned his lesson well, for friends old and new testify that Kenney Jones is the most down-to-earth and modest person you could wish to meet. During the ten days he spent with us, I often found myself thinking that Johnny Clavylle, rock star anti-hero of Nights of the Road, might have avoided his classic rise-crash-and-burn fate if he'd had a best friend like Kenney to put him straight. But then there may have been no novel to write…
The High Point?
It's too easy to use clichés like 'rags to riches' and 'paupers to princes' about Kenney's career and the company he keeps. Except that it is literally true. Kenney passed the local rag-and-bone man every day of his childhood and, as an adult, he's played polo with Prince Charles and hosted him at his club at Hurtwood Park http://www.hurtwoodparkpolo.co.uk. He's notched up enough diverse successes in fifty plus years to be entitled to rest on his laurels. Yet one delight of chatting with Kenney is to hear his enthusiasm for adventures to come.
He says the high point to date of his rock music career was at Live Aid in 1985, when he piloted his own helicopter to the event and played with The Who and hundreds of his peers to billions of people watching on TV around the world, then drove home in his own Rolls Royce. But he is quick to add that, while the 'toys' meant a lot to him then and he still enjoys material things, he's done the rock star bit and it doesn't really matter that much to him any more.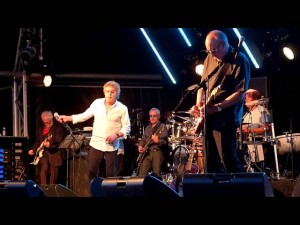 Reunited: the Who at Hurtwood Park June 2014
Kenney believes strongly in the philosophy, "Better to have owned it for five minutes than never have owned it at all." He has come from nothing and feels he would be OK with it, if he had to go back there again. Why? Because nobody can take away the things that mean most to him: playing drums and his love for his wife Jane, his six kids and growing tribe of grandkids, including his first grandson, Zachary (Zac), whose dazzling smile lights up the screensaver on Kenney's iPhone.
Still to Come: Future Projects?
Kenney also says Live Aid is only the high point "So far!" A gleam comes into his eye when he talks about projects in the pipeline.
He aims to build further on his success with the polo club and is passionate about his many years of charity work, including a polo match and rock concert at the club last June to raise awareness about prostate cancer, which will be repeated in 2015. http://www.hurtwoodparkpolo.co.uk/events/rock-n-horsepower/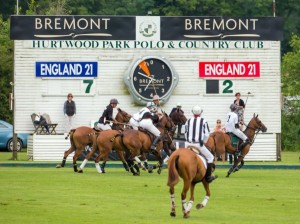 Kenney discovered he was in the early stages of the disease only after holding discussions with Prostate Cancer UK about supporting them at Hurtwood Park. The discovery added impetus to his determination to combat a disease that can easily be diagnosed and treated in its early stages. He understands at first hand how men can feel embarrassed, as well as fearful that their sex life may be in jeopardy. It makes him determined to act as an ambassador to reassure others that his "old chap is in good working order!" Kenney is out to beat the stigma for men everywhere and help others to avoid the problems of prostate cancer left untreated. http://prostatecanceruk.org
Are more rock tours on the cards? Well, Kenney flew to Los Angeles in January specifically to celebrate Rod Stewart's 70th birthday.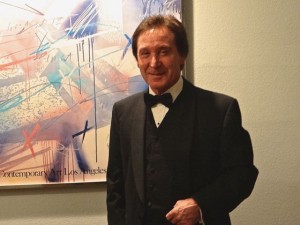 He and Ronnie Wood brought the house down with Rod at the private party when they reunited to play two of their greatest hits in tribute to band-mate Ian 'Mac' McLagan, who died in December. http://ca.hellomagazine.com/music/02015011412549/inside-rod-stewart-s-70th-birthday-party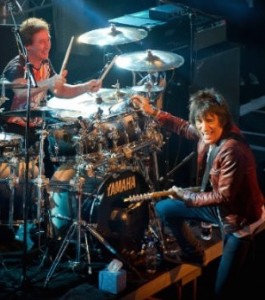 Kenney and Ronnie play
at Rod's 70th birthday
That event has reignited talks – and the hopes of thousands of eager fans – that a tour may materialize in coming months, if the schedules of the three busy men can be synchronized.
In the meantime, Kenney is working hard to pull together another creative project dear to his heart. Ever since the Small Faces went on a crazy boat 'caravan trip' down the Thames and lay out together under the stars beside a campfire, dreaming their groundbreaking concept album Ogdens' Nut Gone Flake into existence in 1968, Kenney has wanted to make an animated movie.
After years of quietly cooking the idea and discovering some fresh characters along the road, he now knows exactly how he wants to build on the whimsical musical story of Happiness Stan, who sets off to find the missing half of the moon. So he is gathering together a team of committed artists and professionals to convert his ideas to reality. And he wants to involve his talented family in the project too.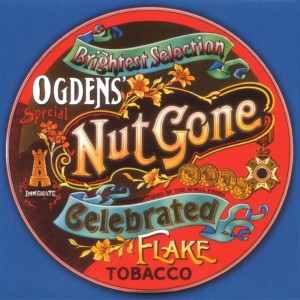 More than just another project in the exciting and busy life of Kenney Jones, this one carries a special responsibility, for it is a living legacy. Kenney feels that Ronnie, Steve and Mac are all at his shoulder, "listening instead of talking for once!" and willing him to make a fresh success of Ogdens, for them as much as for the rest of us still here.
Given that strong sense of his old band mates' presence, it's not surprising that, when I asked him if he believed in past lives, Kenney immediately answered, "Yes." He shared a number of déjà vu experiences and dreams that convince him he has lived before. The strongest of them occurred in the 60's, when he was staying in a French-style hotel in New York with the Small Faces. He dreamed he went through a door and entered a party in the 17th century French royal court. He knew the event was real but he was a ghost, because he kept bumping into real-life historical characters, yet they did not know he was there.
Hmm, I wonder if Frances Coke, Lady Purbeck, beleaguered 17th century heroine of Nights of the Road, who enjoyed the protection of the King and Queen of France when pursued into exile, was present when Kenney haunted that party?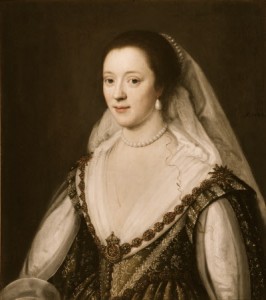 ©NT Frances Coke, Viscountess Purbeck
And can it really be only an accident that a rock music friend with whom he played and toured the world for a decade now owns the lease on Ashdown House where portraits of Frances and other 17th century members of the royal courts of Europe are held..? http://www.nationaltrust.org.uk/ashdown-house/
What do you think?