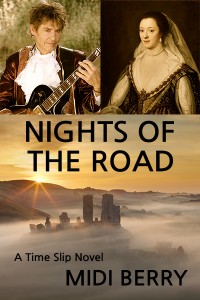 Fourteen-year-old Frances Coke is promised by her society mother, Lady Elizabeth Hatton, that she can marry for love, but everything changes when her famous father, Sir Edward Coke, falls out of favor with James the First. To retrieve his position, Coke sacrifices his daughter in marriage to the manic-depressive brother of the King's lover, the Duke of Buckingham.
Buckingham and his rapacious mother want the lands and wealth promised with Frances, but have no intention that she should bear her husband, Viscount Purbeck, a child. Their machinations to keep the two apart send Frances into the arms of Sir Robert Howard, son of a rival noble house…
In 21st Century California, Sarah James knows nothing about any seventeenth century heiress when she arrives in Los Angeles, although she does believe she has left her own abusive marriage and unhappy past behind her in England. Her therapy practice is off to a flying start, she loves her ocean-side apartment, and she is enjoying a promising new relationship with American rock music promoter, Bob Howard.
But Sarah's world is turned upside down when a British musician kidnaps and holds her in his isolated cabin in the California desert. Is her drink-sodden captor only using Sarah as a pawn to coerce Howard into mounting a tour for his failing rock career? Or does he have ancient scores to settle with both Sarah and Bob?
Sarah finds herself obliged to travel across time and continents to free herself and heal an ancestral legacy marred by patriarchal abuse of power. She must also aid a tormented man to transform his present ruinous path into a road to resurrection.
And her greatest ally in her quest will turn out to be that real-life, seventeenth-century heiress. Frances Coke, For young Viscountess Purbeck, although alive four centuries before Sarah and in an era when women knew no legal safeguards, had steadfastly refused to submit to the ongoing corruption and persecution of her Court, Church and King. She also has some remarkably modern advice to offer.
Check out what reviewers are saying about Nights of the Road at RECENT REVIEWS link above!
 Nights of the Road is available now at:
Amazon: http://www.amazon.com/Nights-Road-Midi-Berry-ebook/dp/B00S6SBOPI/ref=sr_1_2?s=books&ie=UTF8&qid=1421810074&sr=1-2&keywords=nights+of+the+road
iTunes: itunes.apple.com/us/book/nights-of-the-road/id958241829?mt=11&uo=4&at=1l3vuZ3
B & N Nook Books: http://www.barnesandnoble.com/w/nights-of-the-road-midi-berry/1121064339?ean=2940149946662
Kobo: http://store.kobobooks.com/en-US/ebook/nights-of-the-road